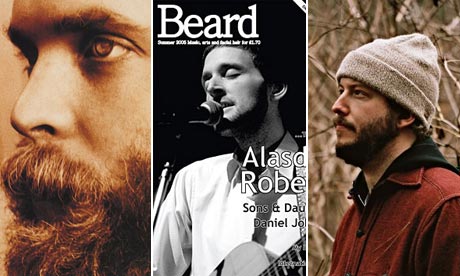 Flabbergasted - and absolutely delighted of course - to be mentioned in
Simon Reynolds' Guardian blog
about the place of facial hair in noughties music culture:
Until recently there was even a UK music zine called Beard whose cover stars tended to be mutton-chopped minstrels such as Alasdair Roberts and Robert Wyatt. The magazine's founders, Stewart Smith and Neil Jacques, developed "an admiration for beards" at the start of this decade through listening to Wyatt, Dennis Wilson and Will Oldham.
As we've pointed out before, the name Beard started as a bit of a joke, but it stuck and proved to be quite a fun angle; cue top tens of literary and pop beards, snakes and ladders reborn as beards and razors etc. Alas, we never realised our plans for a knitting pattern. The name had its downsides - every dodgy band who tried to befriend us on myspace would point out their bass player's beard, and people assumed we were only interested in male artists with beards, something we tried to redress by putting Vashti Bunyan on the cover of our last issue - but we thought of it, so we can hardly complain. It's true that Beard covered a lot of "spiritually bearded" artists, as Reynolds deftly puts it, but while I remain a great fan of certain acts like Joanna Newsom, Ali Roberts, Josephine Foster and Trembling Bells, I've grown disillusioned with most so-called "nu-folk". Fleet Foxes and Bon Iver are just bland acoustic rock acts. That said, I don't want to align myself with Matt Valentine, whose tedious hippy dribblings represent one of the most overrated bodies of work this decade. Earnest (read deadly dull) indie rockers like Glasgow's own Frightened Rabbit and the Twilight Sad (no patriotic cheerleading from us at Beard!) rock the beard and plaid look too, as if to wear their sincerity on their sleeves.
None of this takes anything away from the many talented and imaginative musicians who sport facial fuzz. I agree with Reynold's about the excellence of Wayne Coyne and
Lindstrom's
neatly-trimmed 1970s soft-rock style beards. And of course there are some magnificent beards in the worlds of
metal
,
jazz
and
prog
. Beard salute you!