Friday, April 27, 2007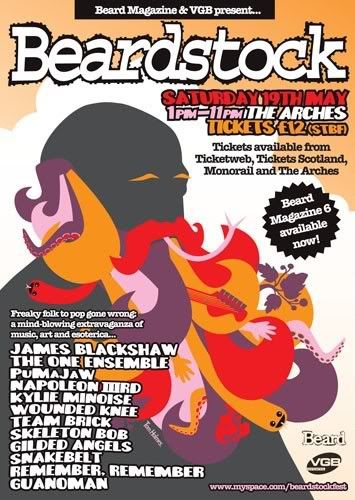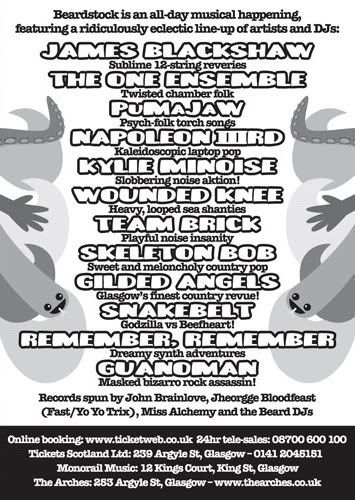 Up to date info
here
Posted by

Stewart Smith
at 4/27/2007 10:44:00 am

Beardstockers might be interested in this fantastic gig:
A Hawk And A Hacksaw
support from Jack Rose
The Arches, Tuesday 8 May
box office: 0870 240 7528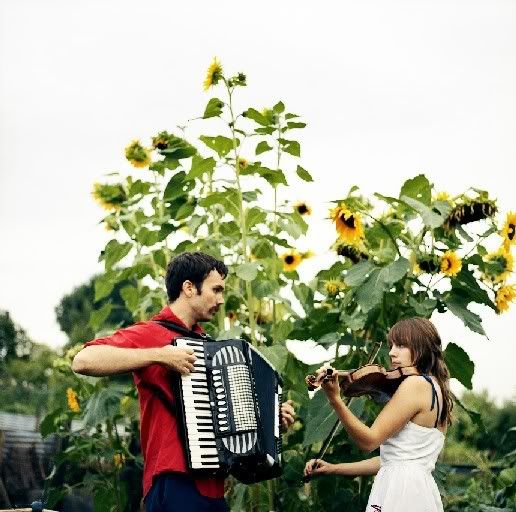 A Hawk And A Hacksaw is Jeremy Barnes and Heather Trost from Albuquerque, New Mexico. Informed by their travels and adventures around the world, their sound is a fantastical and emotive mix of Eastern European folk, gypsy song, klezmer, Mexican fanfare and gorgeous cinematic flourishes, with flashes of classic songwriting. Blending eastern and western sensibilities, both poetical and socially conscious, bucolic and urban, AHAAH are a rare band, steeped in tradition yet plotting their own idiosyncratic course, not so much breaking from musical history as singing its essential values in wholly new forms.
For this very special Contemporary Music Network tour, Jeremy and Heather have taken in a group of four adventurous musicians from Hungary and one from the UK (collectively known as The Hun Hangár Ensemble) to present their music at its most ambitious and uproarious. Featuring bagpipes, clarinet, saxophone, taragoto, trumpet, drums, accordion, upright bass, viola and violin, the show will include stunning new music, re-workings of traditional Hungarian and Balkan folk songs, and material from AHAAH's back catalogue. These are modern day troubadours whose beguiling compositions will combine ancient folk song, subtle global commentary, and allusions to marching tunes, jazz and modern composition. If 'purity is a myth', this is a beautiful and new reality. With a similar approach to Brazil's Tropicalia movement, or George Harrison's forays into the Indian subcontinent, AHAAH have seamlessly synthesized an armful of world musics and counter-cultural influences into an irresistible and otherworldly whole.
AHAAH's travels have always played a defining role in their sound. Following journeys made through America's indie underground, life as a postman in the UK, settlements in France and the Czech Republic, Jeremy dispatched himself to a Romanian village for two weeks in the spring of 2006, living and breathing music with local (and internationally renowned) musicians Fanfare Ciocărlia. His sojourn resulted in the recordings that became AHAAH's incandescent third album, The Way The Wind Blows, released on UK indie The Leaf Label towards the end of 2006, boosting an already feverish word of mouth reputation, further enhanced by a headline slot at The 2006 Green Man festival and a recent tour with Beirut and Calexico.
Jeremy continued his travels with an exploratory trip to Hungary in the autumn, where he developed a huge respect for Budapest's Fonó, a music shop, venue and centre for Hungarian folk music. Following a succession of concerts and impromptu sessions with Fonó-affiliated musicians, The Hun Hangár Ensemble was born. These musicians have vast experience and respect for Hungarian folk traditions but are also well versed in other idioms such as avant-garde jazz and minimalist composition and play in some of Hungary's most esteemed groups as well as small ad hoc bands and projects. They share AHAAH's desire to tread new ground, and when they were invited along for a new ride they took up the challenge.
Multi-instrumentalist Béla Ágoston, an inspirational figure within the Budapest music scene, known for his freedom of thought and expression, has worked with The Odessa Klezmer Band and Szvorák Kati among others. Ferenc Kovács, a self-proclaimed 'contemporary peasant' and a phenomenal trumpet and violin player, is a member of the Balogh Kálmán Gipsy Cymbalom Band and the Romano Kokalo, and has played with Archie Shepp, Roscoe Mitchell, Hamid Drake and more. His solo recordings combine a Reichian approach to minimalism with a Hungarian folk influence. Upright bass player Zsolt Kürtösi, a member of the Budowicz Klezmer Band with considerable experience in traditional Hungarian and Transylvanian folk musics and klezmer. Balázs Unger, a young maestro of the cymbalom (a dulcimer-like instrument central to traditional Hungarian music) has played since the age of 14 in a wide variety of styles, including jazz (with the Mihaly Dresch Quartet), and Hungarian and Balkan folk. AHAAH have also invited Alex Nielson, a highly gifted and original young English percussionist, to join the ensemble (he is also a member of Directing Hand and Scatter).
With Jeremy and Heather moving to Budapest in February for the foreseeable future, the whole group will be ensconced in the city for rehearsals until the tour in May, and will record a selection of new and traditional songs to be released as an EP to coincide with the tour. This tour will be the first time A Hawk And A Hacksaw have been able to present the arrangements and instrumentation of their records live on stage, and anticipations are high.
Posted by

Stewart Smith
at 4/27/2007 10:42:00 am
No comments:

Monday, April 23, 2007
Yes, it's the last week of April and that can only mean one thing (well, it can mean many things, but let me run with this): Triptych! Four days and nights of musical mayhem!
This year I'm super excited about seeing Terry Riley, Einsensturzende Neubauten, Billy Childish, Pastels and Evan Parker.
Here's what Beard did at last year's Triptych...
Triptych, Scotland's tri-city rolling music festival, is always a jamboree of fun for left-field pop fans. Favourite past Triptych moments include seeing Karlheinz Stockhausen heckled by a disgruntled Glaswegian ("gonnae play something wi' a fuckin' tune?"), a Brazilian-Caledonian supergroup performing songs by Caetano Veloso and Gilberto Gil, and Candi Staton leading the crowd (or was it the other way round?) in several choruses of Young Hearts Run Free. So did Triptych 06 turn up any moments as memorable? Well, read on...
Wednesday
Perhaps you've seen the footage of
Odetta
in Scorcesee's Dylan film. Absolutely stunning isn't it? So much power to her blues holler, as she slaps her guitar and grunts. Now in her 70s and visibly frail, her voice might have lost some of its gutsy impact, but she still sounds soulful and dignified as she tackles folk and blues classics. The digital piano accompaniment detracts from her performance, but there's no denying her chilling reading of Leadbelly's TB Blues, horribly relevant in the aftermath of Hurricane Katrina. Earlier that evening
James Blood Ulmer
, an artist who's travelled from free jazz to raw blues, left me deeply moved with a song he wrote about the disaster. Over almost dissonant bursts of guitar he howled out in rage at the treatment of "those lost in the flood". The political engagement and righteous anger of these two veteran artists is inspiring.
Thursday
Balanescu Quartet's
schtick is to play Kraftwerk on the violin, viola and cello. It's a neat trick and highlights the elegant neo-classical structures of the songs. It's ingenious - the wood of the bows are tapped against strings to emulate the electronic beats, and a swooping glissando apes the whoosh of Trans Europe Express – but it's no match for the melancholy electronic textures of the originals.
They have beards! They have stools! They're
Akron Family
! Their first song is beautiful, a gentle drone developing into sweet harmonies and crystalline guitar. Then, whoomph, the fuzz kicks in and half the audience flees in terror, while degenerates like myself twitch with pleasure at the free-form racket. Their set alternates between noisy improv and lush psych-folk, and they follow their final feedback meltdown with an un-amplified gospel sing-along. Tremendous.
Friday
On his first ever tour David Berman of the
Silver Jews
seems a little tentative, looking to wife Cassie for reassurance and referring to printed lyrics. He's been through a lot, yet his wit and humanity shine through. It's a greatest hits set, performed in chronological order, so we begin with the languid Boats Across the Sea and end with a raging Place Beyond The Blues. The three guitar line up rocks, threatening to obscure the lyrics at times, but overall this is a small triumph of a show, played and received with great warmth. To the max!
I dash across town to find human-beatbox and hip-hop funny man
Biz Markie
in a rather grumpy mood. Old favourites like Hookin' Boogers and Nobody Beats The Biz should be bouncy and silly and fun, but Markie's mush-mouthed delivery and half-assed showmanship only disappoint. Fellow Juice Crew veteran
Roxanne Shante
fares a little better by actually putting some energy into her performance, but her Spinal Tap worthy shout out to Switzerland loses her the crowd's support. It's a pale reflection of the classic records these guys made with Marley Marl back in the '80s.
Saturday
Battles
make math-rock fun, infusing it with hardcore energy, African-polyrhythms and playful electronics. The dizzyingly intricacy of their music is matched by the sheer intensity of their performance. Superhuman drummer John Stanier has a ride cymbal high above his kit, forcing him to reach far – a reflection of their admirable reluctance to make things easy for themselves.
Steve Reid
and
Kieran Hebden's
fourth world electro-acoustic improv doesn't quite come off on this occasion. While there are moments when the afro-beat drummer's rhythms coalesce with Hebden's chaotic digital skree, all too often he is left keeping time, while Hedben punctuates the beats with saw-tooth blurts and pre-programmed sequences.
Space is the place as the
Sun Ra Arkestra
power up their rockets for an intergalactic jazz odyssey. Dressed in gourd shaped hats and sequined capes, the band, featuring veterans and space cadets, ensure the music and spirit of their late leader lives on. It's a well balanced set, encompassing funky big band numbers, cacophonic blow-outs and and trippy sci-fi weirdness. During one ecstatic climax several of the band leave the stage and wind their way through the crowd. Having a bunch of horn wielding alien emissaries blow wild and free right in front of me is an experience I'm unlikely to forget.
Sunday
The Tramway is the venue for
Belle & Sebastian's Sunday Social
. It's far from the twee-pop overload some might expect however, as
Lucky Luke
and
Voice of The Seven Woods
opening proceedings with some excellent dark, droney folk-rock.
Alasdair Roberts
turns in a gem of a set. Accompanying himself on electric (!) guitar he uses his second Triptych appearance to explore the more eccentric and romantic sides of his music. So instead of medieval murder ballads we get an Elizabethan lute song (put that in yr pipe and smoke it Sting!) and a tender take on the Magnetic Fields' Josephine.
Over in the main room the
Concretes
are a little disappointing. Their cosy melancholy doesn't quite translate to such cavernous surroundings, and let's face it, their new material just isn't as good.
Despite this being her first ever gig on Scottish soil,
Vashti Bunyan
has no trouble in creating an intimate atmosphere. She might seem a little shy, but it doesn't affect her performance, which is a delight. The young band - multi-instrumentalist Jo Mango plus a guitarist and string duo - provide graceful accompaniment as Bunyan draws us in with her wisp of a voice and wistful melodies. If the set seemed a little on the short side that's only a reflection of how special it was.
After Friday's Biz Markie debacle
Edan
and co-hort Insight leap on stage to prove live hip-hop doesn't have to suck. So what if he's backpacker, indie friendly hip-hop? He fucking rules, with his freaked out psych guitar samples, fuzzy beats and brilliant showmanship. Marvel as Edan scratches and rhymes simultaneously! Bug out as he runs his voice through a delay pedal! Smile as he busts out some deft bossa nova guitar picking! It's spontaneous, thrilling and super-funky - kudos to Belle & Seb's funkmeister Beans for getting him on the bill.
As for
Belle & Sebastian
themselves, well, they're terrific. A slick live act these days, their set offers little in the way of surprises but is as sweet and fun and swoonsome as you'd expect. Stuart Murdoch bounces around like a cross between Tigger and the Go Betweens' Robert Forster while Stevie Jackson twangs away, looking like Hank Marvin in his thick-rimmed glasses and mod suit. The glam and soft-pop pastiches of The Life Pursuit might grate a little, but old school fans are kept sated with outings of The State That I Am In and Dog On Wheels. A fantastic day altogether, and I haven't even mentioned Jerry Dammers' DJ set in the foyer.
Posted by

Stewart Smith
at 4/23/2007 04:30:00 pm
No comments: