Beardstockers might be interested in this fantastic gig:
A Hawk And A Hacksaw
support from Jack Rose
The Arches, Tuesday 8 May
box office: 0870 240 7528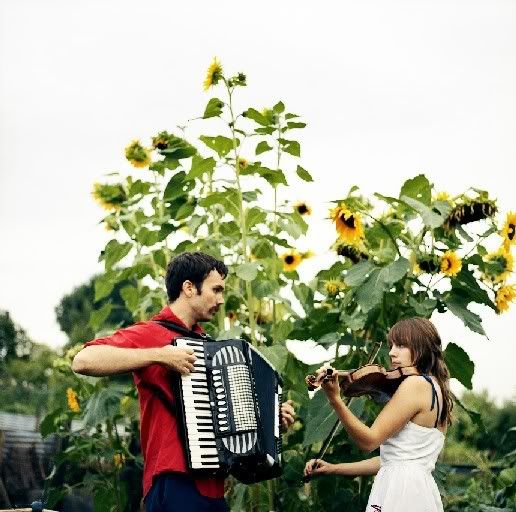 A Hawk And A Hacksaw is Jeremy Barnes and Heather Trost from Albuquerque, New Mexico. Informed by their travels and adventures around the world, their sound is a fantastical and emotive mix of Eastern European folk, gypsy song, klezmer, Mexican fanfare and gorgeous cinematic flourishes, with flashes of classic songwriting. Blending eastern and western sensibilities, both poetical and socially conscious, bucolic and urban, AHAAH are a rare band, steeped in tradition yet plotting their own idiosyncratic course, not so much breaking from musical history as singing its essential values in wholly new forms.
For this very special Contemporary Music Network tour, Jeremy and Heather have taken in a group of four adventurous musicians from Hungary and one from the UK (collectively known as The Hun Hangár Ensemble) to present their music at its most ambitious and uproarious. Featuring bagpipes, clarinet, saxophone, taragoto, trumpet, drums, accordion, upright bass, viola and violin, the show will include stunning new music, re-workings of traditional Hungarian and Balkan folk songs, and material from AHAAH's back catalogue. These are modern day troubadours whose beguiling compositions will combine ancient folk song, subtle global commentary, and allusions to marching tunes, jazz and modern composition. If 'purity is a myth', this is a beautiful and new reality. With a similar approach to Brazil's Tropicalia movement, or George Harrison's forays into the Indian subcontinent, AHAAH have seamlessly synthesized an armful of world musics and counter-cultural influences into an irresistible and otherworldly whole.
AHAAH's travels have always played a defining role in their sound. Following journeys made through America's indie underground, life as a postman in the UK, settlements in France and the Czech Republic, Jeremy dispatched himself to a Romanian village for two weeks in the spring of 2006, living and breathing music with local (and internationally renowned) musicians Fanfare Ciocărlia. His sojourn resulted in the recordings that became AHAAH's incandescent third album, The Way The Wind Blows, released on UK indie The Leaf Label towards the end of 2006, boosting an already feverish word of mouth reputation, further enhanced by a headline slot at The 2006 Green Man festival and a recent tour with Beirut and Calexico.
Jeremy continued his travels with an exploratory trip to Hungary in the autumn, where he developed a huge respect for Budapest's Fonó, a music shop, venue and centre for Hungarian folk music. Following a succession of concerts and impromptu sessions with Fonó-affiliated musicians, The Hun Hangár Ensemble was born. These musicians have vast experience and respect for Hungarian folk traditions but are also well versed in other idioms such as avant-garde jazz and minimalist composition and play in some of Hungary's most esteemed groups as well as small ad hoc bands and projects. They share AHAAH's desire to tread new ground, and when they were invited along for a new ride they took up the challenge.
Multi-instrumentalist Béla Ágoston, an inspirational figure within the Budapest music scene, known for his freedom of thought and expression, has worked with The Odessa Klezmer Band and Szvorák Kati among others. Ferenc Kovács, a self-proclaimed 'contemporary peasant' and a phenomenal trumpet and violin player, is a member of the Balogh Kálmán Gipsy Cymbalom Band and the Romano Kokalo, and has played with Archie Shepp, Roscoe Mitchell, Hamid Drake and more. His solo recordings combine a Reichian approach to minimalism with a Hungarian folk influence. Upright bass player Zsolt Kürtösi, a member of the Budowicz Klezmer Band with considerable experience in traditional Hungarian and Transylvanian folk musics and klezmer. Balázs Unger, a young maestro of the cymbalom (a dulcimer-like instrument central to traditional Hungarian music) has played since the age of 14 in a wide variety of styles, including jazz (with the Mihaly Dresch Quartet), and Hungarian and Balkan folk. AHAAH have also invited Alex Nielson, a highly gifted and original young English percussionist, to join the ensemble (he is also a member of Directing Hand and Scatter).
With Jeremy and Heather moving to Budapest in February for the foreseeable future, the whole group will be ensconced in the city for rehearsals until the tour in May, and will record a selection of new and traditional songs to be released as an EP to coincide with the tour. This tour will be the first time A Hawk And A Hacksaw have been able to present the arrangements and instrumentation of their records live on stage, and anticipations are high.