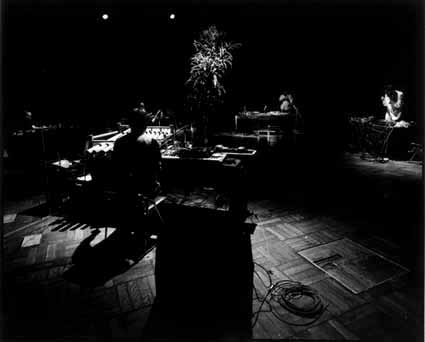 As
Instal
approaches, the sad news reaches us that Yasushi Ozawa, bassist with
Marginal Consort
and
Fushitsusha
, has passed away. Marginal Consort will still be playing Instal, albeit with a member missing. So in tribute to his memory, this week's show ends with a mind-blowing blast of Fushitsusha in all their live glory.
This week's show focuses on artists from Instals past, present and future. Well, past and present certainly. So strap yourself in for a third-eye opening ride with Opaque, Jazkamer, Richard Youngs, Old Time Relijun (Arrington De Dionyso's deranged swamp skronk outfit), Oshiri Penpenz, and Borbetomagus, as well as Keiji Haino with Fushitsusha of course. All that and the goodies listed below.
What's more, thanks to the lovely people at Arika, we have two pairs of tickets to Instal to give away!!!

Simply answer the following question...

Which band is saxophonist Don Dietrich, appearing at Instal as part of the Energy Births Form improv marathon, a member of?

(a) Borbetomagus
(b) Naked City
(c) Steely Dan

Email your answers to beardmag@yahoo.co.uk

The competition closes on Thursday afternoon. Winners will be announced that evening.


Ok, now go listen to the
radio show
. It's dead good, honest.
Autechre - Ipacial Section (Untilted, 2006)
Fire Engines - Candyskin (Hungry Beat, 1980)
Opaque - Cold Mist (The Cult of Survivors, Unreleased Tracks 1997-2007)
Link Wray - Girl From The North Country (Swan Singles)
Scott Walker - Farmer In The City (Tilt, 2005)
Swell Maps - HS Art (A Trip To Marineville, 1979)
Voivod - Voivod (War and Pain, 1994)
Jazkamer - Friends of Satan (Metal Music Machine, 2006)
Richard Youngs - Blossom (River Through A Howling Sky, 2004)
Oshiri Penpenz - 2 (White Album)
Vialka - Everywhere and Nowhere (Curiosities Des Coutumes Populaires,
2007)
Mr Bungle - The Air Conditioned Nightmare (California, 2000)
Old Time Relijun - Indestructible Life (Part Three of the Light Trilogy,
2007)
Madvillain - America's Most Blunted (Madvillainy, 2005)
Kevin Ayers - There Is Loving (Whatevershebringswesing, 1972)
Edgard Varese - Ionisation (Complete Works Vol 1)
Shirley Ellis - The Clapping Song
The Fall - Pay Your Rates (Grotesque, 1980)
Borbetomagus - One for Trarn (Buncha Hair That Long, 1992)
Fushitsusha - Track 2 (Double Live, 1992)